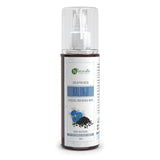 Cold Pressed Grapeseed Carrier Oil for Hair Growth, Skin Tightening, Face Massage and Acne, 200ml
Price : Rs. 660.00
Price : Rs. 440.00
customers are viewing this product
Naturalis Essence of Nature Cold Pressed Grapeseed Carrier Oil for Hair Growth, Skin Tightening, Face Massage and Acne, 200ml


Premium Cold-pressed Grapeseed Oil packed in easy-to-use Leak-proof dispenser pump bottle.
Premium Natural Grapeseed Oil - No Additives, Not Diluted, No Alcohol, No Added-Fragrance, No Chemicals, No Hexane.
Best Grapeseed Oil for Face, Hair & Body. The Oil moisturizes the skin, improves complexion and helps lighten scars and acne marks. It can be used for all skin types.
Grapeseed Oil is a great massage oil and can be for mixed with other essential oils and blends. It can also be used on its own at 100% Strength.
Massaging with Grapeseed oil helps giving necessary moisture to hair and helps boost hair growth.

Description:
Light, Bright and Smooth with Grapeseed Oil! Carrier oils are vegetable oils, which have been derived from the seeds, kernels or nuts of a plant. Naturalis Essence of Nature's Cold-pressed Grapeseed Oil is a natural oil extracted from grape seeds. It is known for its high content of Vitamin E that is great for healthy hair and skin. It moisturizes, heals acne, tightens pores and improves the overall texture of skin. When applied to the scalp and hair, it nourishes and strengthens the hair.