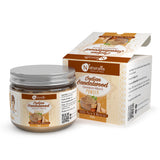 Naturalis Kalonji Oil / Black Seed Oil – Extra Virgin Cold Pressed
Price : Rs. 1,999.00
Price : Rs. 274.00
customers are viewing this product
Details: Naturalis Kalonji Oil / Black Seed Oil – Extra Virgin Cold Pressed 
Naturalis Premium Black Seed Oil 100% Pure & Natural – Extra Virgin – Cold Pressed – Unrefined.
It is Pressed From NON-GMO, Highest Quality Nigella Sativa Seeds. 
Black Cumin Seed Oil is a natural source of Essential Fatty Acids.
Promotes Healthy Skin & Hair.
Naturalis black seed oil is carefully harvested and extracted with a cold-press method to ensure our oil is of the highest standards.       
Benefits:  
Enhance Immunity 
Helps In Diabetes
Helps In Weight Loss
Maintain Cardiovascular Health
Anti Inflammatory

Suggested Use
1. Add 1 teaspoon Naturalis Black seed oil with honey and consume it every day empty stomach.
2. Mix one teaspoon (5ml) of Naturalis Extra Virgin Black Seed Oil into your favorite drink like tea coffee, Drizzle it over salads. 
3. Apply directly on hair in the night time 


Legal Disclaimer: Natural Essential & Carrier Oils are Not Drugs
Above Information is general Information, please consult with a doctor before use