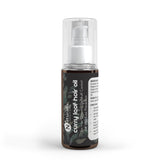 Cold pressed Apricot Carrier Oil for Skin & Face Moisturizer, Hair Growth, Aromatherapy Carrier Oil, 200ml
Price : Rs. 1,158.00
Price : Rs. 478.00
customers are viewing this product
Naturalis Essence of Nature Cold pressed Apricot Carrier Oil for Skin & Face Moisturizer, Hair Growth, Aromatherapy Carrier Oil, 200ml


Premium Cold-pressed Apricot oil packed in easy-to-use Leak-proof dispenser pump bottle.
Premium Natural Apricot Oil - No Additives, Not Diluted, No Alcohol, No Added-Fragrance, No Chemicals, No Hexane.
Best Apricot Oil for Face, Hair & Body. The Apricot Carrier Oil is moisturizing without being sticky. It has anti-inflammatory and anti-ageing benefits for the skin and body. It can be used for all skin types.
Apricot Oil is a great massage oil and can be for mixed with other essential oils and blends. It can also be used on its own at 100% Strength.
Apricot Oil helps hair retain moisture and makes the scalp and hair softer and healthier.

Description:

Carrier oils are vegetable oils, which have been derived from the seeds, kernels or nuts of a plant. Naturalis Essence of Nature's Cold-pressed Apricot Oil is extracted from Apricot kernels and has emollient properties that have the ability to penetrate the skin without leaving an oily feel. It's sweet aroma makes it popular as massage oil and it used as carrier oil when mixed with essential oils. It is also helps retain moisture in the hair and scalp, making hair lustrous and strong.